15 October 2008
As I flew a Finnair MD11 for the 3th time in September this year, to Delhi, I was parked next to OH-LGC, another MD11 of Finnair.
I already flew OH-LGA, and -LGB from/to Hong Kong in March this year. I was in OH-LGG waiting for pushback to Delhi. And facing -LGC suddenly a feeling popped up. I WANT TO FLY ALL FINNAIR MD11!
OH-LGC was doing the run to New York JFK. When I came back from India on A340 aircraft OH-LQE, I saw OH-LGC again in Helsinki. Again on JFK run. I decided for sure to get all those MD11s
I contacted Finnair but didn't get any reply about fleet replacement and when the first one was going to be phased out. All MD11s will be phased out between end 2008 and begin 2010. Out of those 7, 3 of them will go to Aeroflot Cargo. Where they will get conversion I dont know. Another 2 will go to Ethiopian Cargo I believe. Rest probably to some cargo airline in USA.
I contacted Finnair again and got a reply the day after which said: first one who will go out will be OH-LGC. Last flight will be in 2 weeks. I called Helsinki and heard from reservation office, where they only could see the next 4 days that OH-LGC was doing JFK, JFK, DEL, JFK. After that no flights. I wasnt satisfied with answer from my call to Finland. I scanned all Finnair websited and tried some things out to contact the higher managment and CEO. And this was…. Succesful! :yahoo: I received an email from the Secretary of CEO the dates of all MD11 phase outs:
2008
November (27.10.08, OH-LGC)
2009
March OH-LGE
April OH-LGG
August OH-LGD
2010
January OH-LGF
February OH-LGA/B
March OH-LGA/B
I still needed OH-LGC, -LGD, -LGE and -LGF. I received an email a little after with the MD11 schedule for October. Schedule of course couldnt be 100% guarranteed because of tech. failures or something. I found the last flight of OH-LGC just 1 day after!!!! To JFK the flight was. I had to decide wether to continue with this strange feeling which popped up in OH-LGG or to abort mission and leave those other 4 MD11s. It was a discission I hade to made at that moment, if I would say "abort" I maybe would regret it in the future because I would never ever get the change again to fly OH-LGC. If I would say "Takeoff" it would cost me quite some money. Hard choice, but my choice. And I choose.
First I called up my boss and she told me I could get 3 free days for the rest of the week so the first steps were done. Then I had to search for available seats. Some seats available but not a lot anymore. Flights Amsterdam-Helsinki-JFK-HEL-AMS, to expensive. Mission already failed before departure? No! I started to search for flights from almost entire Germany to Helsinki. All to expensive. Flights from Germany and Amsterdam to other Scandinavian an Baltic cities. YES! Oslo, cheap Finnair flights from OSL to HEL and onward to JFK :yahoo: Departure time from OSL 8.00 AM… arrival from AMS in OSL 8.30 AM :angry: No option. Flight from Copenhagen to Helsinki. Departing CPH on 9.00 AM. Arriving CPH from AMS 8.15 AM. Small possibility, but with delay I still screw up my flight to HEL and JFK and waste to much money, dont want to take the risk, 2nd disadvantage, the fare to CPH to expensive :finger: No flights from Germany as well, all afternoon arrivals. Baltic states all the same. Then uhh Gotheborg? No option to expensive, Bergen, no same. Hmm Stockholm then.. Flight fare to JFK, after Oslo the cheapest of all. Departure time to HEL will be around 9AM so to early I gues… wait… 10.30 AM. Flightfare of Finnair GOOD! Flightfare of KLM to Stockholm… hmm… OK!! Finnair BOOKED, booking CONFIRMED. KLM BOOKED, booking CONFIRMED.
OH-LGC, HERE I COME :yahoo: I made this booking at 11 PM, I went to bed at 1 AM and woke up at 3 AM for my drive to Amsterdam.
I already booked a returnflight to Stockholm Arlanda with SAS MadDog for that weekend but I had to cancel because of the last change to fly OH-LGC.
In Amsterdam I got to fly with KLM B738, PH-BXB. Short flight 1,5 hour to ARN. Nice on schedule.
In ARN change terminals and checkin for flight to HEL and JFK, tried to get there as fast as possible to get windowseat on M11 which failed. My booking was to late, and due to that I couldnt do internet checkin. Dunno why but I couldnt check in on internet as usual. No windowseat on M11 unfortunately but I did fly MD11. Boarding to Helsinki, flew Embraer 190, first time in the E190 jet, OH-LKI was the registration.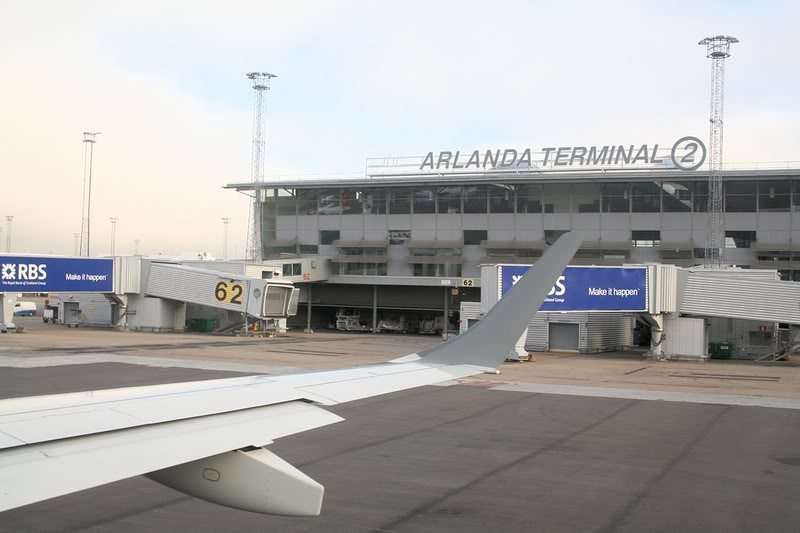 At arrival in Helsinki there she was…. Ah Delhi MD11 as well… Oh my God!! Gate 33 as always JFK, let it be.. let it be.. I hear the Beatles sing hehe. Yes.. no!!!!! Wait, OH-LG…. C !
LGC LGC LGC Yeaaah man! She still had 2 stretches ahaid in Finnair service:
1) HEL-JFK
2) JFK-HEL the very last commercial flight for Finnair.
I wouldnt make the very last one, but I would fly OH-LGC which was my only goal for this trip.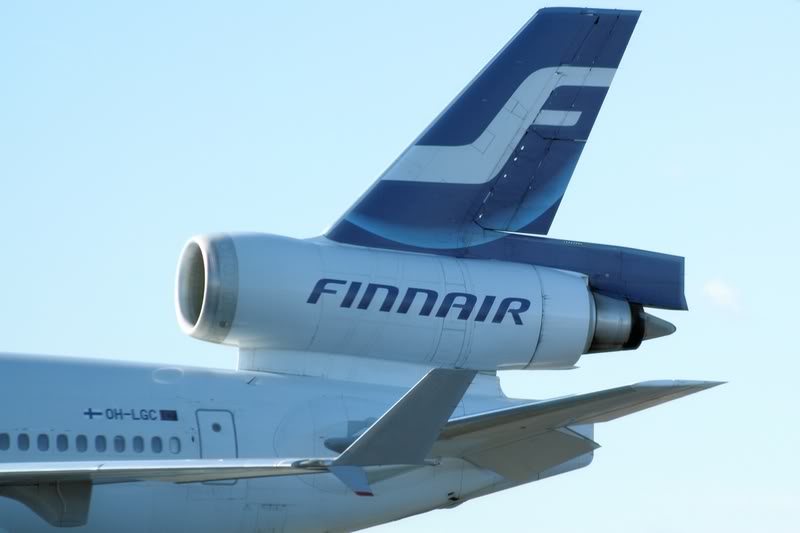 Further seen in Helsinki: OH-LGG for DEL run. Deja-vu with day of my departure to DEL, both flights same gate, both flights same rego.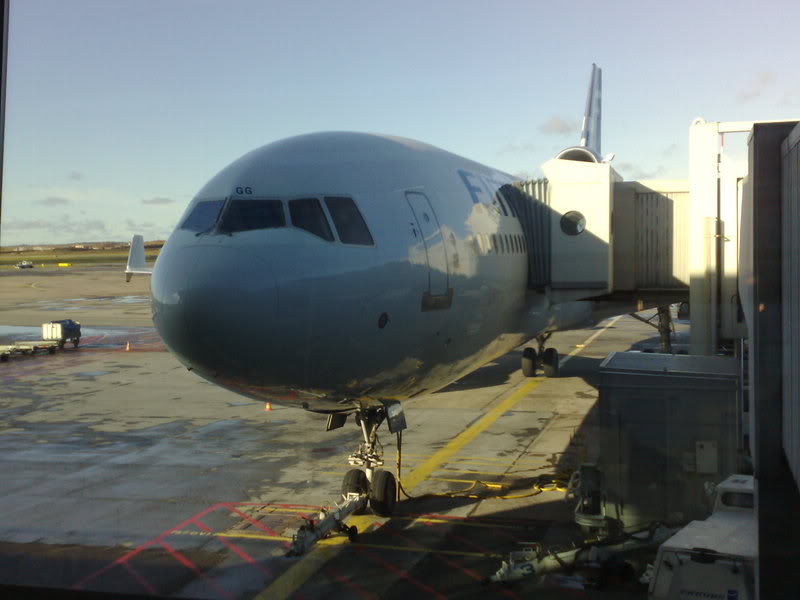 After boarding OH-LGC I noted a big difference with other MD11s ; Seatpitch!! Best M11 out of their fleet. More room for your legs then the other MD11s flown so far.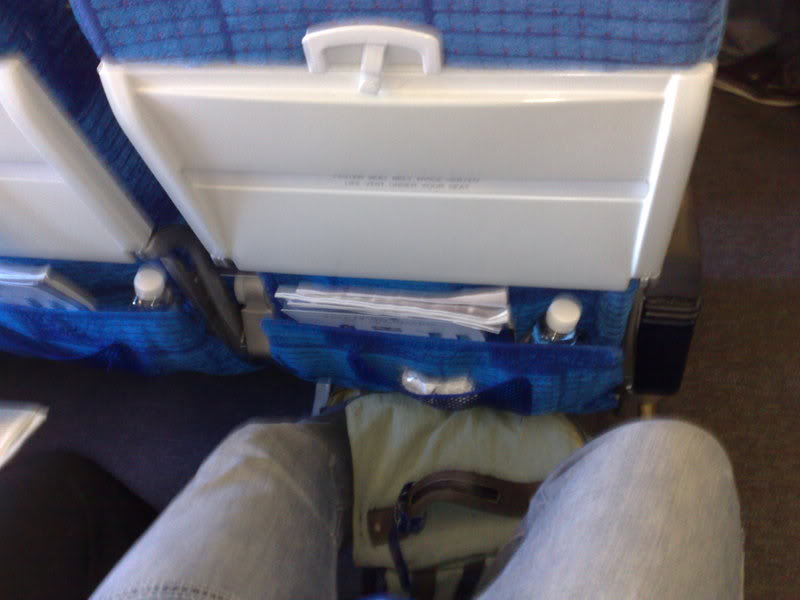 During the flight I went to the pantry and had some conversation with Finish cabincrew. I told them about their last flight on LGC and they were going to celebrate it in New York. However I wasnt invited. After arrival I was talking with flightcrew/pilots and they didnt agree with my fact that this was last flight for Finnair and the fligth back to HEL was the very last flight. "Nope Sir, still 2 weeks to go for this machine." I told them again: We will see!
After deboarding I made nice shot of nose, my last time to see this machine. Goodbye hon.
I had trouble to enter the USA as they saw on my immigration card I's only staying for 1 night. They wanted to know everything about me:
Job? Wages? Girlfriend? Own car? Live with parents? Why I had so much stamps of so much counties visited in 2008 in my passport. Etc. etc. As I am honest and dont want to lie and get into trouble because of a lie I told I was only here to see city during evening but mainly I was here because of flight on OH-LGC. After I told the immigration this they wouldnt accept me into the US. More questions and questions and I was really really odd/strange/nuts/loonatic whatever! "Why not take camera and stand on approach to take shots? You are inside aircraft, you dont see a thing at all!" From that point I was suspected for some crime or whatsoever. I'd better told them I was boyfriend of that pretty Finish flightattendent and spent one night in NY with her. Because of all those questions I got a little worried being refused and got nervous. The immigration officer noted me being nervous and started to ask questions like: Why are you scratching your face and, why you look so nervous.. after those questions I had to feel calm from inside but I just didnt. She hasitated a few times and after 1 hour of questions she finally accepted me as US Visitor and gave me a stamp on immigration form and passport.
After getting into the US I decided to do checkin in hotel and go into the city as it was already late in the afternoon. Here some city impressions: