Gooday,
When I was a young boy my parents took me and my sisters for holidays to Spain and Greece. One of the first things I remember is that I already told my mom to photograph the planes, especially the ones we were flying. When people ask me where my hobby comes from, I think the interest has always been inside me! The photographs my mom took completed almost my full logbook of past registration numbers.
One of the first aircraft I flew on was the McDonnell Douglas MD-11 on Martinair. In 1998 I flew their MD-11 for the last time. This was on PH-MCP from Amsterdam to Malaga. We had a (at that time still runway 19R) nowadays runway 18C departure out of Schiphol. The flight departed around 5 AM. It was in October and there were aproximately 45 passengers riding 'Charlie Papa'. I've only looked at the winglet, the strobe-lights flashing the entire journey. I was really unhappy when we started descending into Malaga Airport.
After 1998, when I was around airports I was really happy seeing the MD-11 fly. When Martinair was flying to my holiday airport in Greece or Spain I was Always standing somewhere in the approach to see this beautiful machine land and takeoff again. I flew their MD-11 quite a few times between 1995 and 1998 to/from Palma de Mallorca, Malaga and Tenerife. Also flew their 747-200 and 767 a few times. When you just think back to the machines of the 90's, and the lack of memories I have about these first flights… Too bad!
Me and my sister, my first picture inside an MD-11 PH-MCS enroute Tenerife-Sur in 1998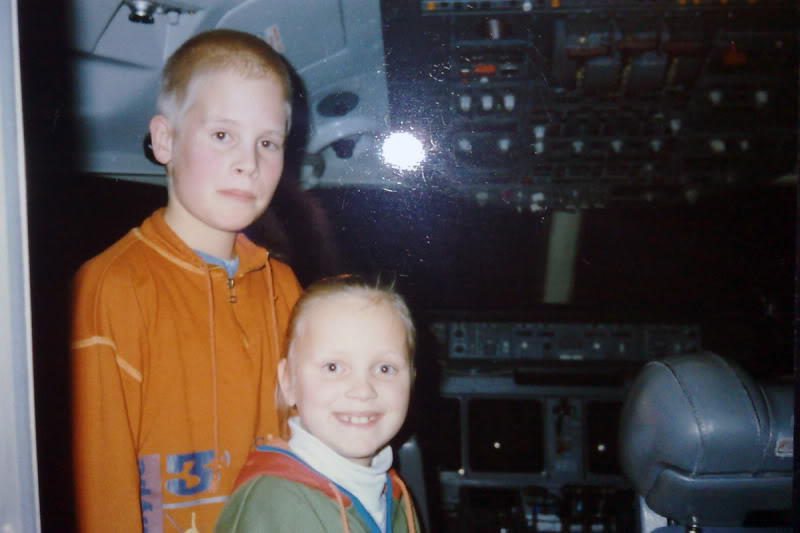 Martinair MD-11 PH-MCR and Transavia B757-200 PH-TKC in Fuerteventura, June 2003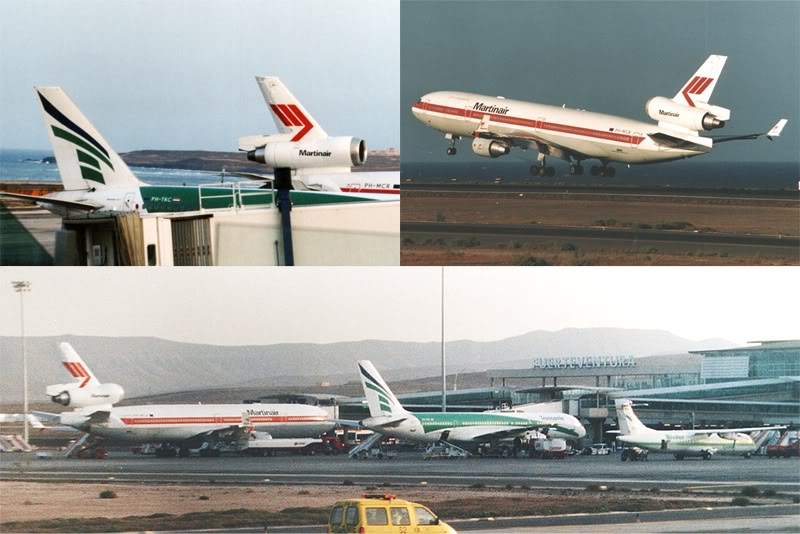 In 2005 I flew to Australia via Kuala Lumpur first flying KLM's Boeing 747-400. After this day I was addicted to long-distance-travelling. A year later I used KLM again on a holiday to Thailand and Malaysia.
In 2008 I really liked to go for holidays again! This time I definitely wanted to fly the MD-11 again! Not a lot of opportunities as KLM and Finnair were the only major airlines operating the MD-11 in passenger service. A flight via Helsinki to Hong Kong was booked using Finnair! I flew OH-LGB on my way to Hong Kong and on return to Helsinki OH-LGA was the ship.
Half a year later I found a cheap Finnair ticket to India, using MD-11 equipment again. I flew OH-LGG, the returnflight was an Airbus A340. Every time I passed the airport in Helsinki, MD-11 OH-LGC was on the gate parked next to us, and coincidencely always operating AY005 to JFK. I had this feeling already when I got back from Hong Kong, but now coming back from India this feeling was there even more… I wanted to fly 'Lima Golf Charlie'! I knew Finnair started to phase out the first MD-11s soon and within a few days I heard LGC was the first machine to leave the active fleet. I wrote Finnair and heard the last flight was the next day! I didn't hesitate, booked a Amsterdam-Stockholm-Helsinki-New York JFK return on KLM and Finnair.
In 2009 I've completed flying all Finnair MD-11s.
There was this feeling again in 2010. That KLM flight to Quito and Guayaquil via Bonaire… If I … no, no new project! However, this feeling kept itching and in the end I've booked the flight to Ecuador. Get out of the plane in Bonaire, fly to Ecuador the next day and get 2 registrations. On the return the same strategy and I flew 4 out of 10 KLM MD-11s!
The new project was born and the run for 10 MD-11s started! There was one really memorable trip! Amsterdam-Dubai (Abu Dhabi)-Chittagong-Dhaka-Chittagong-Abu Dhabi (Dubai)- Amsterdam. Flying the KLM MD-11 from Amsterdam to Dubai and return, and flying the Biman Bangladesh DC-10 from Abu Dhabi via Chittagong to Dhaka and the same return. All the way from Amsterdam to Dhaka on trihole power! In just 6 days 6 takeoffs in those amazing birds!
After finishing the MD-11 project I couldn't stay home anymore. A new project was born (again!) This time it's KLM's Boeing 747-400 fleet.
Again welcome at my page. I try to keep you updated in the progress!
Kind regards,
Cornelis Boersma
cornelis @ iflyblue.nl
Comments
comments