This trip my goal was flying the last 3 remaining Finnair MD-11s!
Here first my flights made:
30jan2009 KL1167 AMS-HEL 734 PH-BDY
30jan2009 AY0089 HEL-BKK M11 OH-LGG
01feb2009 PG0103 BKK-USM 319 HS-PGS
01feb2009 PG0178 USM-BKK AT7 HS-PGD
02feb2009 TG0201 BKK-HKT 744 HS-TGK
02feb2009 TG0214 HKT-BKK 772 HS-TJA
04feb2009 AY0096 BKK-HEL M11 OH-LGG
04feb2009 AY0095 HEL-BKK M11 OH-LGD
07feb2009 AY0096 BKK-HEL M11 OH-LGF
07feb2009 AY0005 HEL-JFK M11 OH-LGF
09feb2009 NW0215 LGA-DTW 752 N518US
09feb2009 NW1243 DTW-ORD DC9 N8986E
09feb2009 NW1248 ORD-DTW DC9 N773NC
09feb2009 NW0262 DTW-LGA 320 N371NB
10feb2009 AY0006 JFK-HEL M11 OH-LGD
13feb2009 AY0021 HEL-DEL M11 OH-LGE
15feb2009 AY0022 DEL-HEL M11 OH-LGE
15feb2009 KF0655 HEL-CPH AR1 OH-SAN
15feb2009 SK0549 CPH-AMS M82 LN-RMD
As you can all know my goal was to fly all 7 Finnair MD11 before they got fased out!
I still had to fly OH-LGD, OH-LGE and OH-LGF. Within 2 weeks after this trip OH-LGE was going to be phased out of the active Finnair fleet.
The first flight was on OH-LGG, not a new plane unfortunately.
Some pictures from the trip itself: Here Samui airport with their new terminals. Quite famous airport!
And some from my hotelroof in Bangkok
At night I flew back to Helsinki. OH-LGG! Nooooooo way! Again?! 3th time on Golf Golf! This isn't the way we like it! I had to wait all day in Finland from 6 o'clock in the morning till midnight! (18 hours!) And I really felt wasted because of the fact I didn't sleep on the plane. I went to a Finnair ticket-office to check the status of my eveningflight. It was, AGAIN! planned on OH-LGG! I changed my flight to an earlier flight which was scheduled by OH-LGD  (still a new one for me!) departing at 20.00 local time. The flight was overbooked with at least 30 seats, but I told what I was doing. The Finnair staff was actually flying on the 8 PM flight to Bangkok herself and offered me her seat!
OH- Lima Golf Delta down! 1 down, 2 to go! This flight I hardly remember as I fell asleep right after the meal and woke up on approach in Bangkok, much later then breakfast was served. My Swedish neighbours in the plane were really surpriced a man can sleep so long on a plane haha. After I explained how this was possible, they understood that I needed sleep badly haha.
Seen from hotel roof (Queens Garden Resort) LGD returning to HEL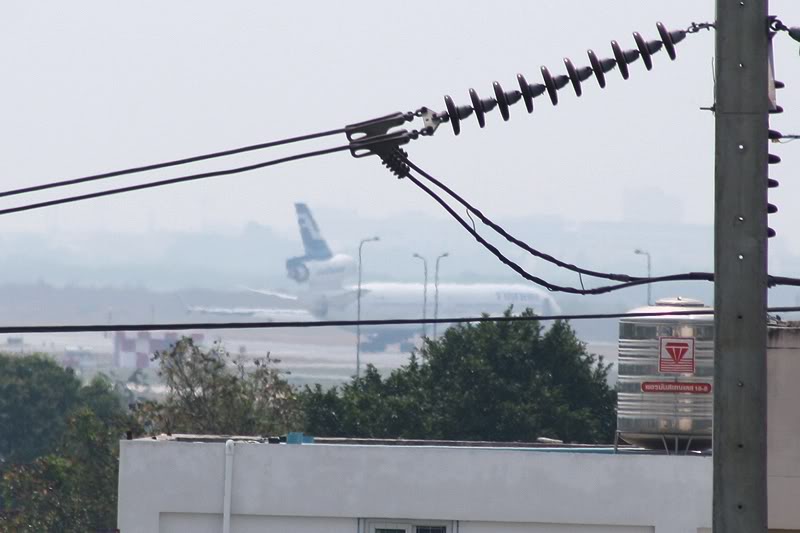 The day of departure from Bangkok to Helsinki (the 2nd and final return) I was doing some spotting from hotel roof. In the afternoon I saw Finnair's OH- Lima Golf Fox land on 19R (departing again after 9 hours stop at BKK) and a few hours later what do I see there hidden? You see her?
This was going to be a long day. First the entire day of 6 February spotting at hotel. Then at 7 February at 00.35 AM departure to Helsinki. Second MD11 down OH-LGF, 2 down 1 to go!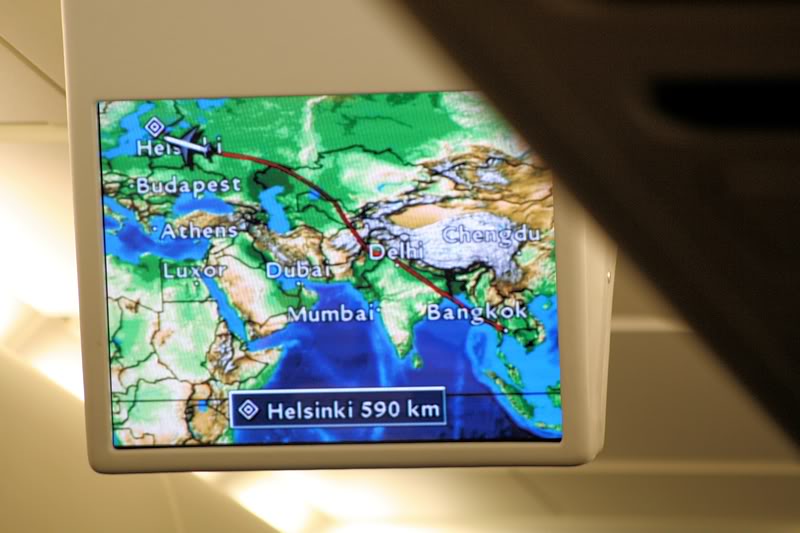 The same day arriving at EFHK/HEL at 06.30 AM. Then I had to wait untill 2.20 PM still on 7 February. And that time I took of with same OH-LGF as AY005 to New York JFK. Boarding the same aircraft again I then finally made a picture of the windowslide which is saying DC-10! I found it as well on sisterships OHLGG and OHLGD, LGF has it as well!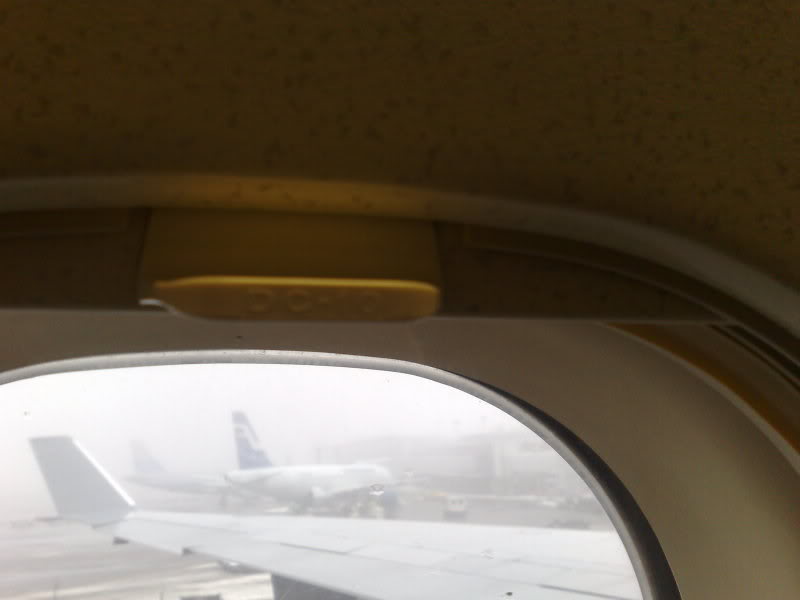 Enroute OH-LGF to JFK on the same loooong day all the way from Bangkok via Helsinki.
Overflying Iceland or maybe Canada? I had no clue. I was so tired of all the flights and long days and I slept most time (again) during this flight to JFK. I woke up took a few photographs and fell asleep again untill the Boston area. This trip actually got me sleeping in a plane for the first time ever!
The 2nd day I have done some spotting at LGA en JFK.
The 3th day I left from LGA to DTW and ORD to fly DC9!
After boarding the NWA B752 for DTW I saw something like a black hole in the engine-cowl. I reported it the cabin crew who got a little upset. She called the captain who came to have a look. He didnt trusted it either.
So the captain called maintenance who had a look at it. SLOT GONE hehe. Delay was 30 minutes and it was only something like an exit for air of whatever.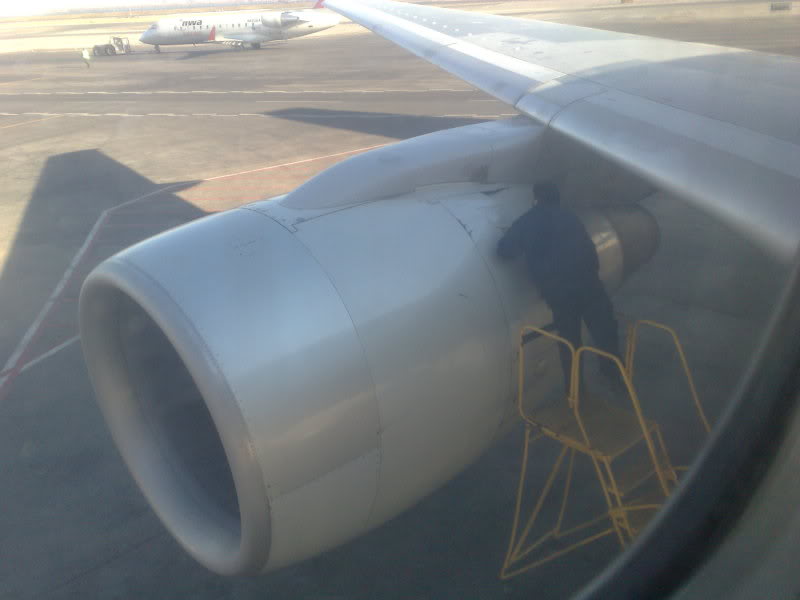 But then I found on the internet other PW engines who didnt have it open!! It was open the entire flight. If you look at this picture (also NWA B752!) you can see it is closed! http://www.airliners.net/photo/Northwes … 1486302/L/
After landing I had small conversation with captain and made picture of flightdeck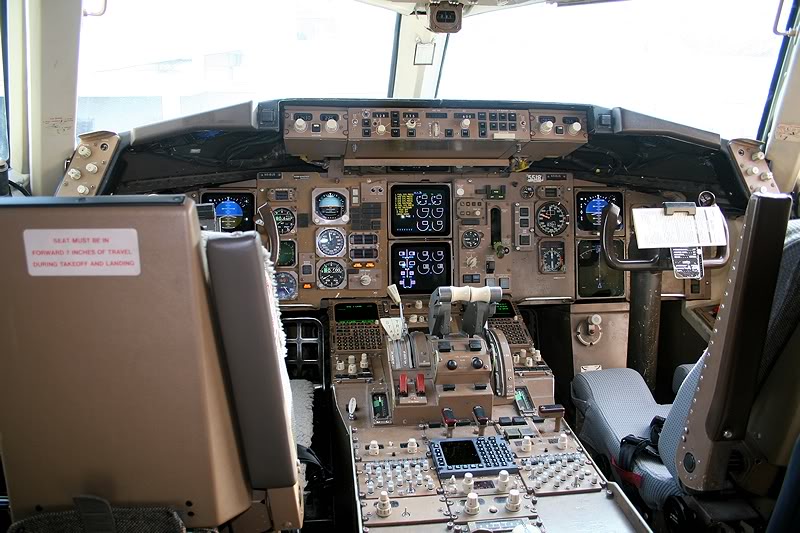 From Detroit there was a (maybe final) chance of flying the Douglas DC-9. Northwest Airlines Detroit to Chicago and return.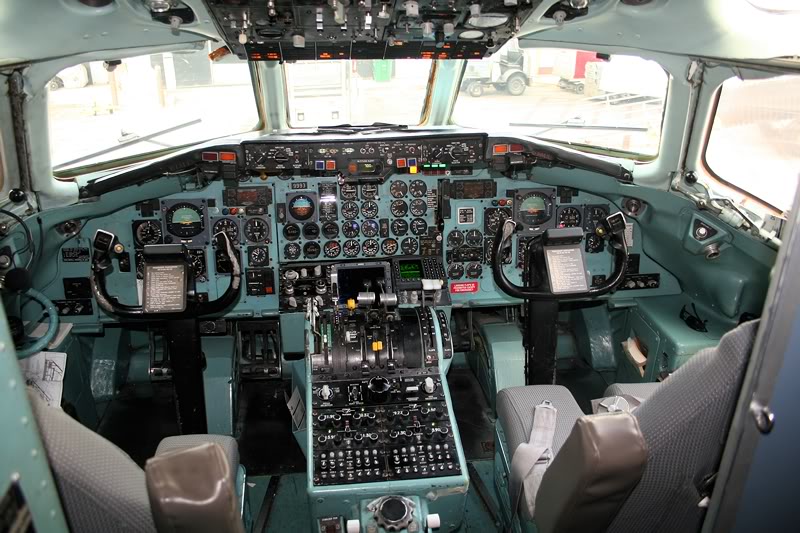 Night approach into New York La Guardia Airport
The day after I left USA for Helsinki again on ship LGD. (specially changed my flight from HEL to BKK to fly LGD instead of LGG, now got her here again…. grrr !!! Haha)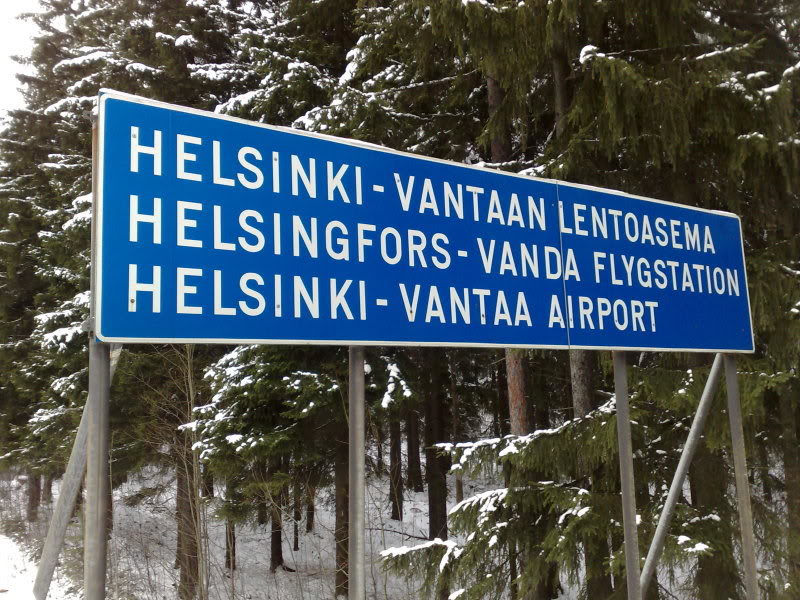 After this flight I checked in at hotel and went straight back to the airport to visit the HeadQuarters of Finnair.
At the Finnair HQ I noted the big MD11 model had been replaced by A330-300!
Finnairs first A330-300 is being delivered at 26 March, and first flights will be on 30 March from Helsinki to Kittila in Lapland.
On 6 April it will fly its first flight to JFK. If you fly AY on 5 April to JFK and return the next day, you'll get MD11 and A333.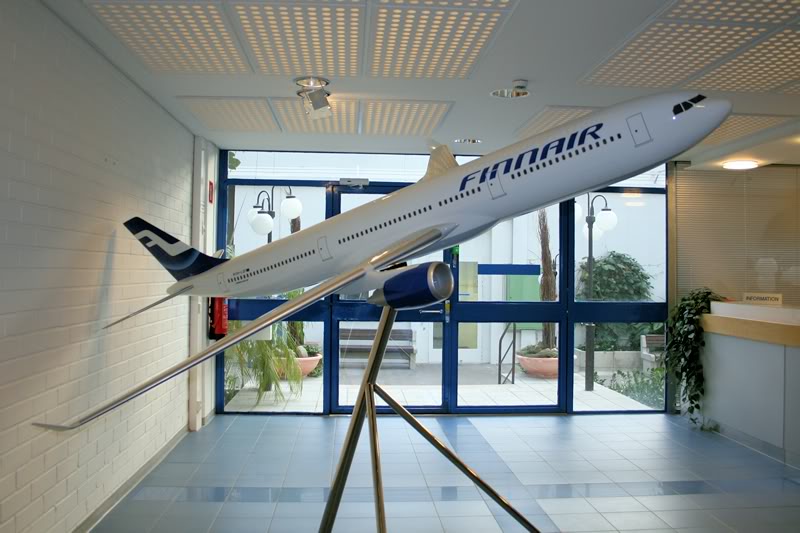 They had lots of awards and also scalemodels over there. All presents by Boeing, Airbus and Embraer.
Here the (at that time) active fleet: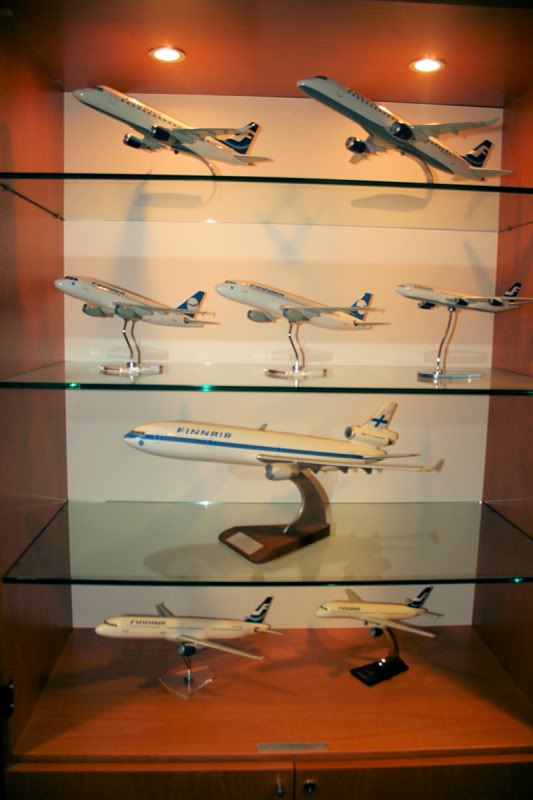 After the visit to HQ I went to crew centre and flight-dispatching office near the airports terminalbuilding
I went up the roof to do some spotting.
Waking up in hotel in Vantaa the next day. Breakfast. Nah nothing different. A day like no other you'd say. I guess so… or? NO FREAKING WAY! This would be the day that I would finally complete my 7/7 my 7th and last Finnair MD11, OH-LGE. The hard to catch one! Seen her quite a few times in BKK last week and also in HEL inbetween those other flights.
I had to wait long day before it was finally 8 PM and the time was there to depart from HEL to DEL (Delhi, India). I just killed time with spotting again in the extremely good weather at HEL this day!
Waaah!!!!!! Two Retro's of my two loves.
AY030 arriving from BOM.. Lima Golf Echo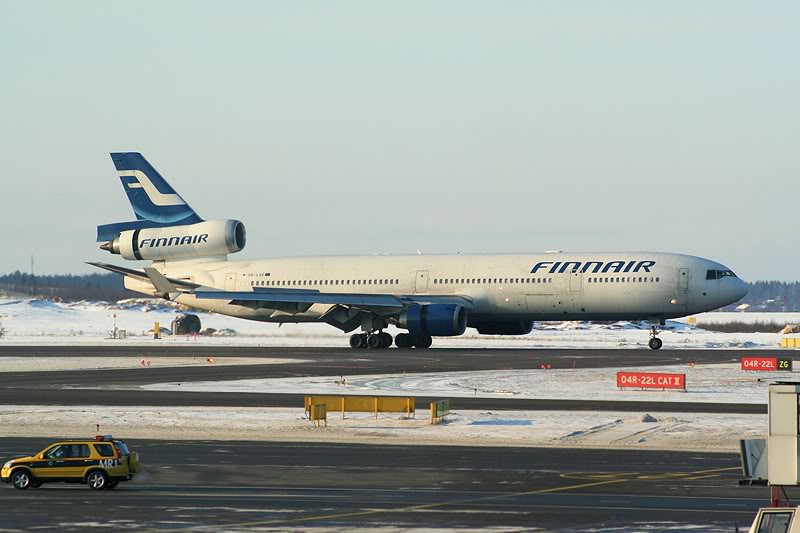 OHLZE A321 with LGE taxiing in, and Lime Golfie Golf departing as AY005 to JFK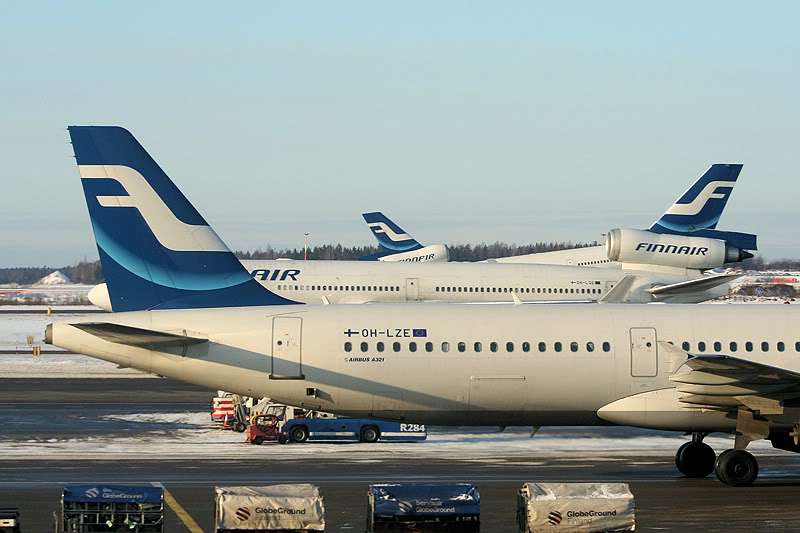 OH-LGE taxiing to stand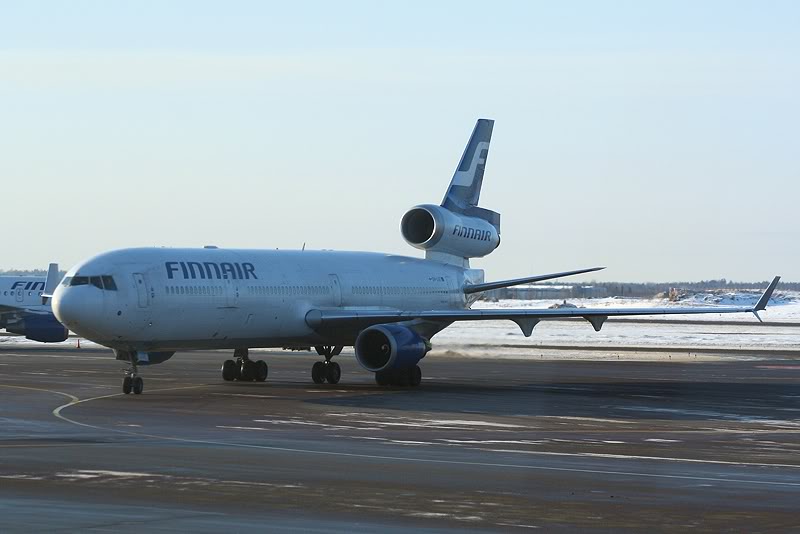 Then LGF comes in, I just cant get enough from shots like these!!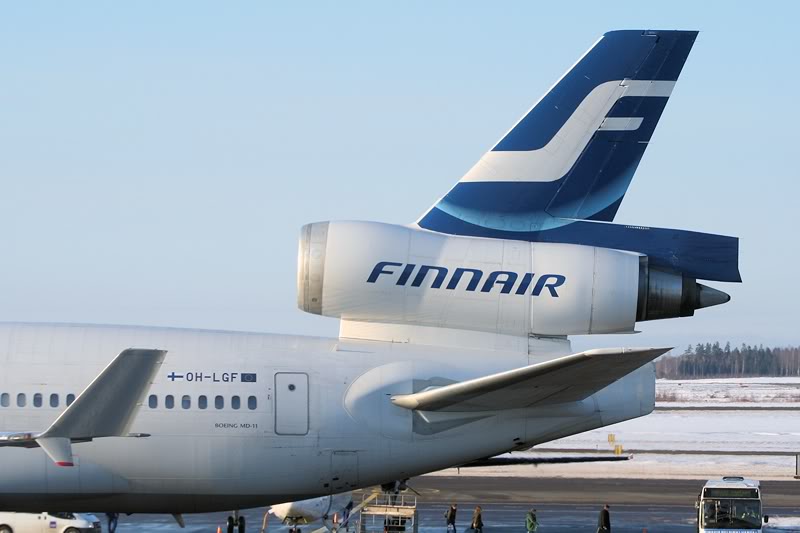 Takeoff in LGE to Delhi (first you see OH-LGA takeoff to Bangkok)
After just 1 day in Delhi (I was only in DEL to fly LGE, lucky me my visa was still valid for 5 days after my departure). Return on OH-LGE, with the same aircraft and the same crew.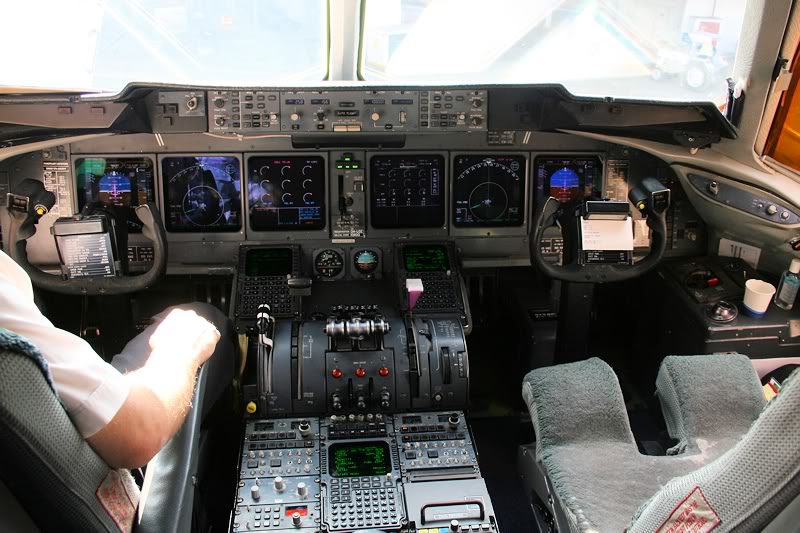 After takeoff overflying western part of the Himalaya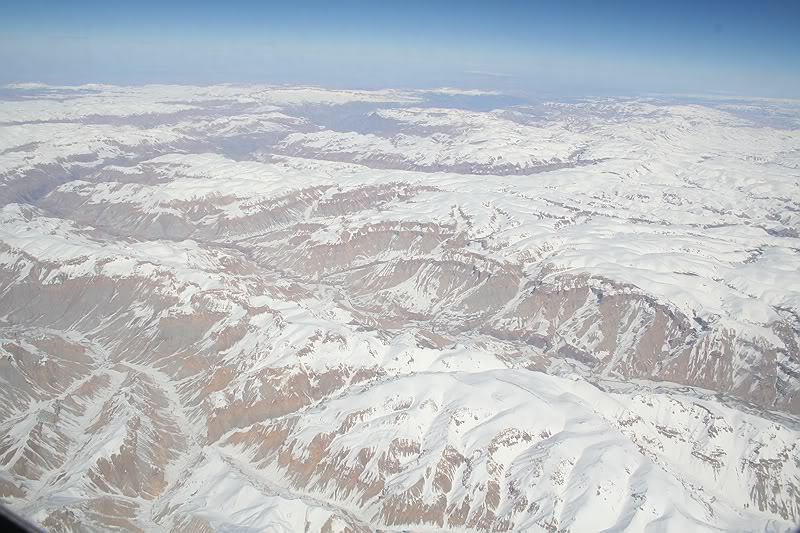 I took some to share from business class which I flew to DEL and back to HEL (free upgrade after my Finnair Headquarters visit)
Approaching Helsinki again
Landing movie Helsinki 04R in OH-LGE
Thank you OH-LGE, Thank you Finnair!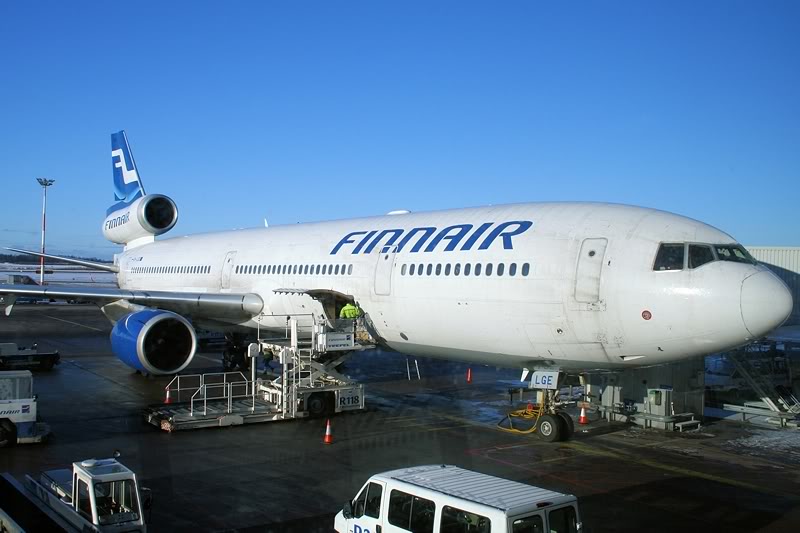 I had to continue back to Amsterdam and during my boardingprocess LGE departed back to India, now to BOM as AY029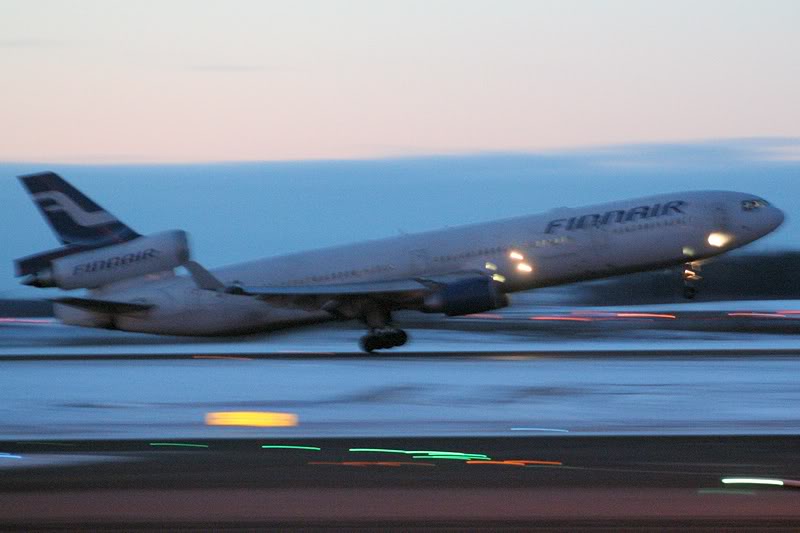 Here the article which got published in the Finnair staff magazine with more then 10.000 people who get this magazine!
The translation of the text in main lines must be this:
Dutch youngster Cornelis Boersma aviation interested, and in particular Finnair MD11 aircraft. Cornelis traveled two weeks in February from Helsinki, to Bangkok, New York and Delhi to fly all different MD11 machines. He also noticed all MD11s very different from one and another! All very small differences. Cornelis has now flown in all the Finnair MD11 aircraft, including the ones who already left the fleet.
Comments
comments