This day another flight was scheduled. The destination was Montreal, first with a stop in Toronto. Now here's the story: This trip I originally had to start in Antwerp using the Thalys train. KLM is offering Thalys service from Antwerp Central Railwaystation to Amsterdam, and offers connections on their planes out of Amsterdam. On my day of departure there was a strike of the Belgian railwaycompany. KLM hereby changed my flights. I got assigned on an Amsterdam to Canada flight. No starting in Antwerp as there were no trains driving! When the ticketoffice called me they said they could put me on a direct flight towards Montreal. I was thinking, what would I like to do? A direct flight is really nice! Equipment this day was an Airbus A330-300, never flew those machines, and as the A330 is my next official project, this would definitely be a new frame more me to fly! "Ok, put me on the direct flight, no worries!" I kept having in mind I only needed to fly one more 747-400 Combi, the equipment going to be used on my orignal flight via Toronto. But how are the odds? 1 / 15 that BFU would be scheduled on this exact Toronto flight! So also 14 / 15 chance that I get an already flown frame.
Two days before departure PH-BFR was scheduled for Toronto. I was really happy! See no BFU! I probably would really freak out in case BFU would be put on Toronto that day! One day before departure PH-BFW was scheduled instead of BFR. No worries! Flew this frame last August to JFK. My last to fly Combi, PH-BFU was supposed to fly to Shanghai the day before my flight, scheduled to return the early morning after my departure! The night before my departure I checked the Toronto and Montreal schedules again. "Huh! Whaaaat?! What happened? PH-BFU now scheduled for Toronto tomorrow…. (again) Whaaaat, or like I always say in Dutch : "BENDE!" (and having my right hand way up in the sky

) NO WAY! Some crazy stuff in the KLM fleet, making some changes to keep all the flights going, of course resulting in some delays, but they had to, to keep flying all the passengers from A to B.
The next morning I called KLM's ticketoffice and kindly ask if they could put me back on my orignal itinerary. After some discussing with a supervisor they put me back on KL695 via Toronto! If schedules wouldn't change again during the day, I'd fly my last still to fly 747-400 Combi the same day!

Here PH-BFU "The City of Beijing" taxiing in on arrival from Beijing
My boarding pass was showing gate F4 for departure, BFU arriving on my gate! "Oh happy day"!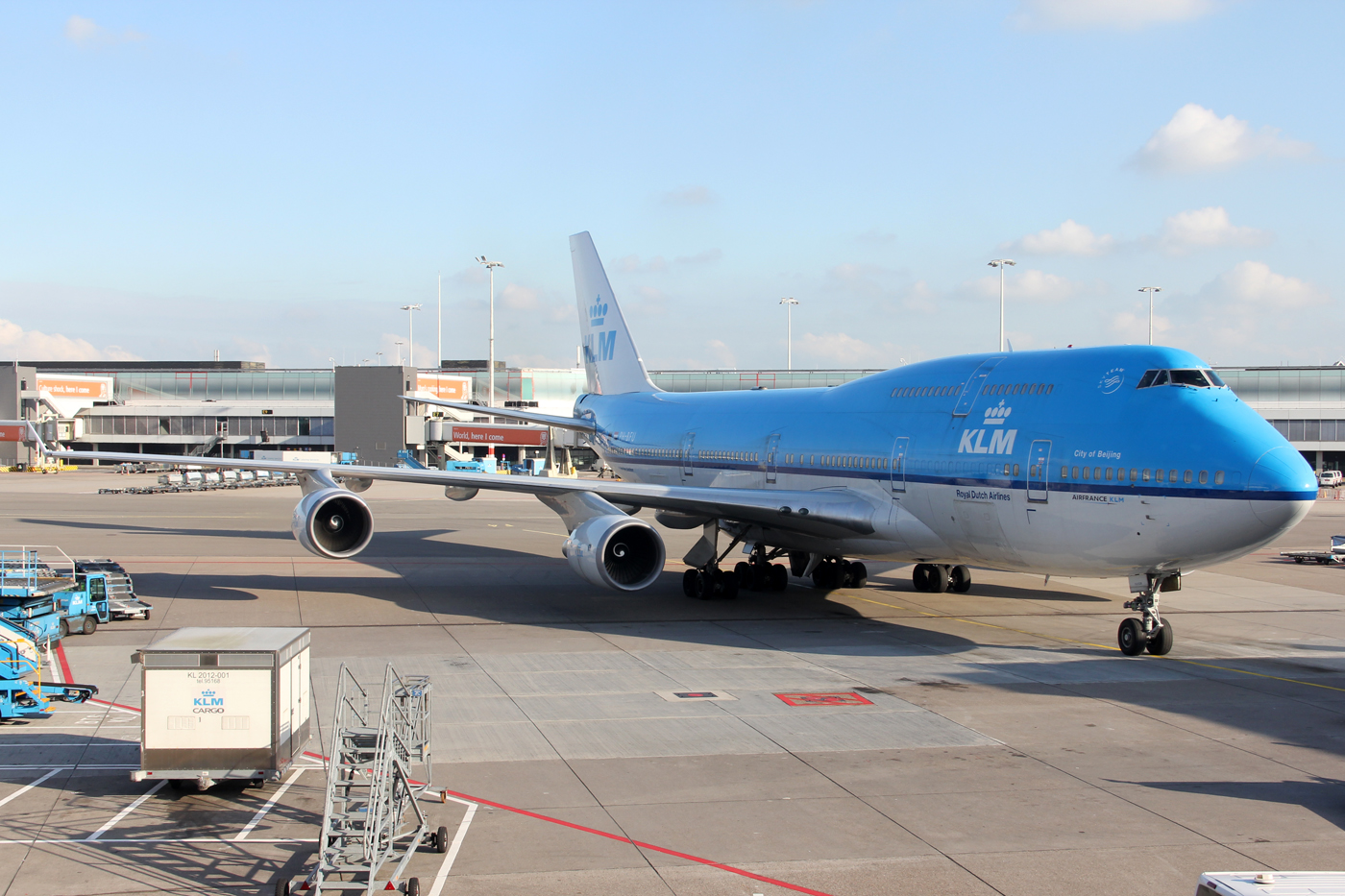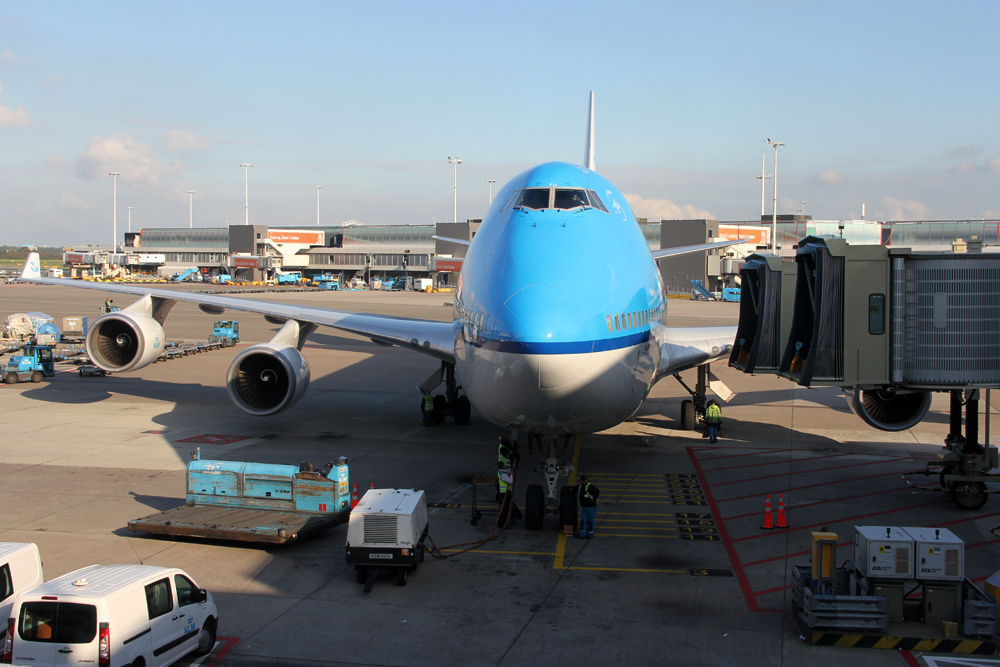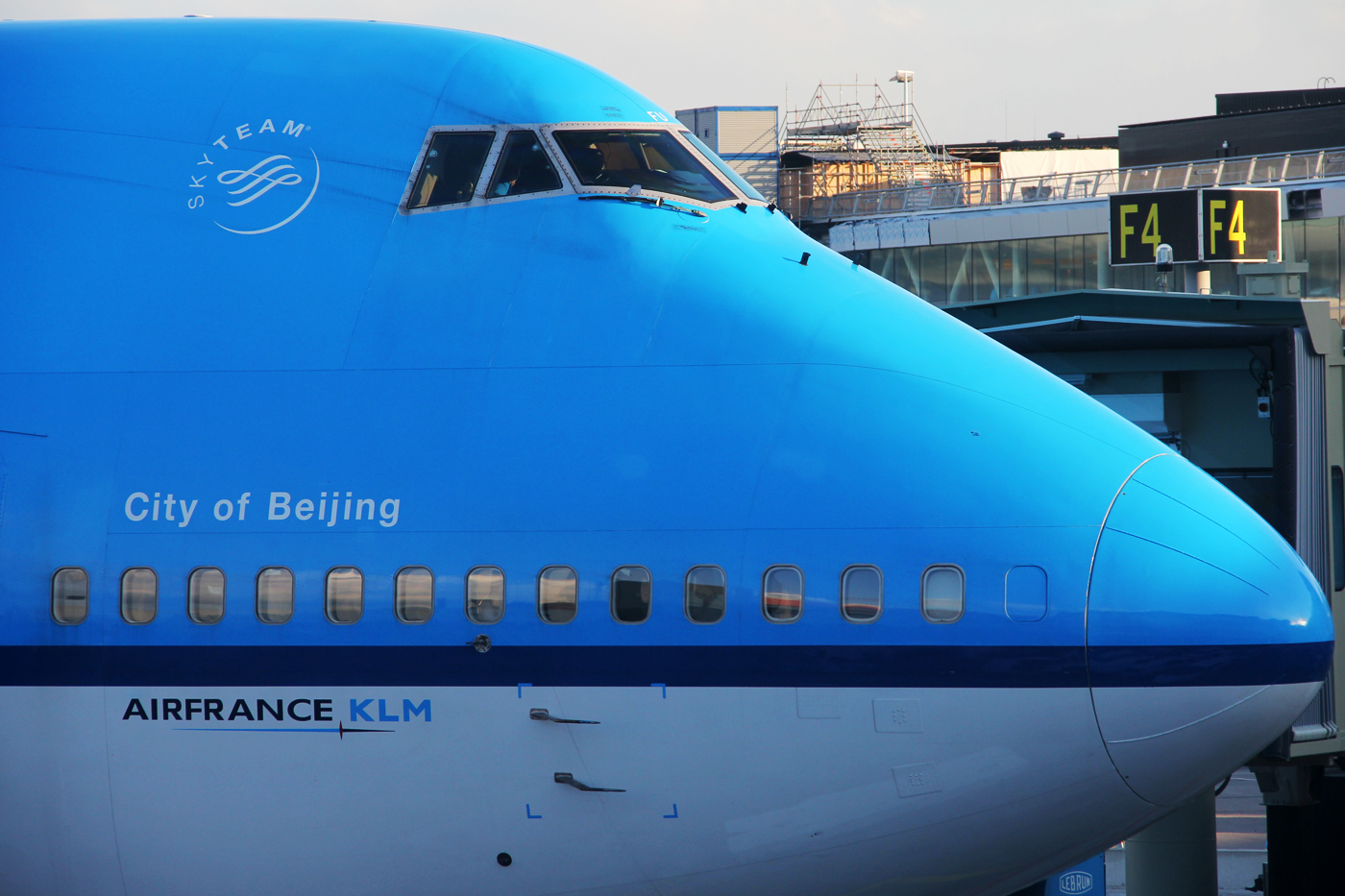 Boarding PH-BFU, the City of Beijing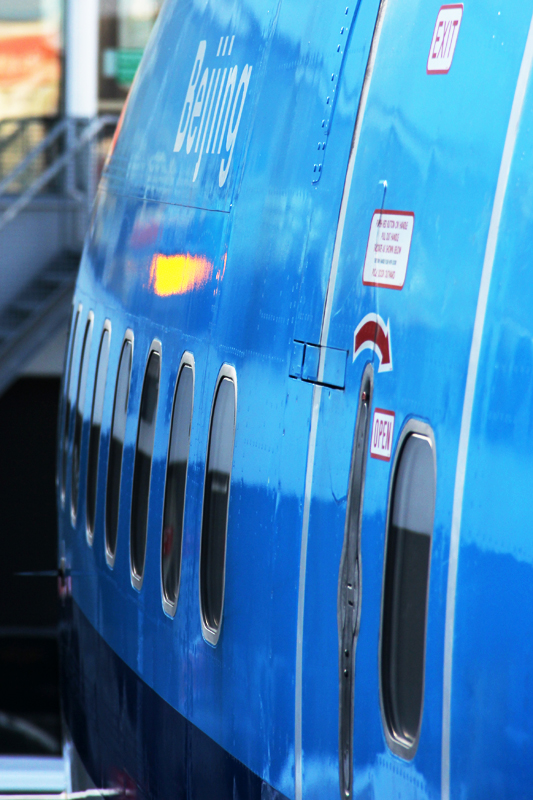 Maindeck Cargo door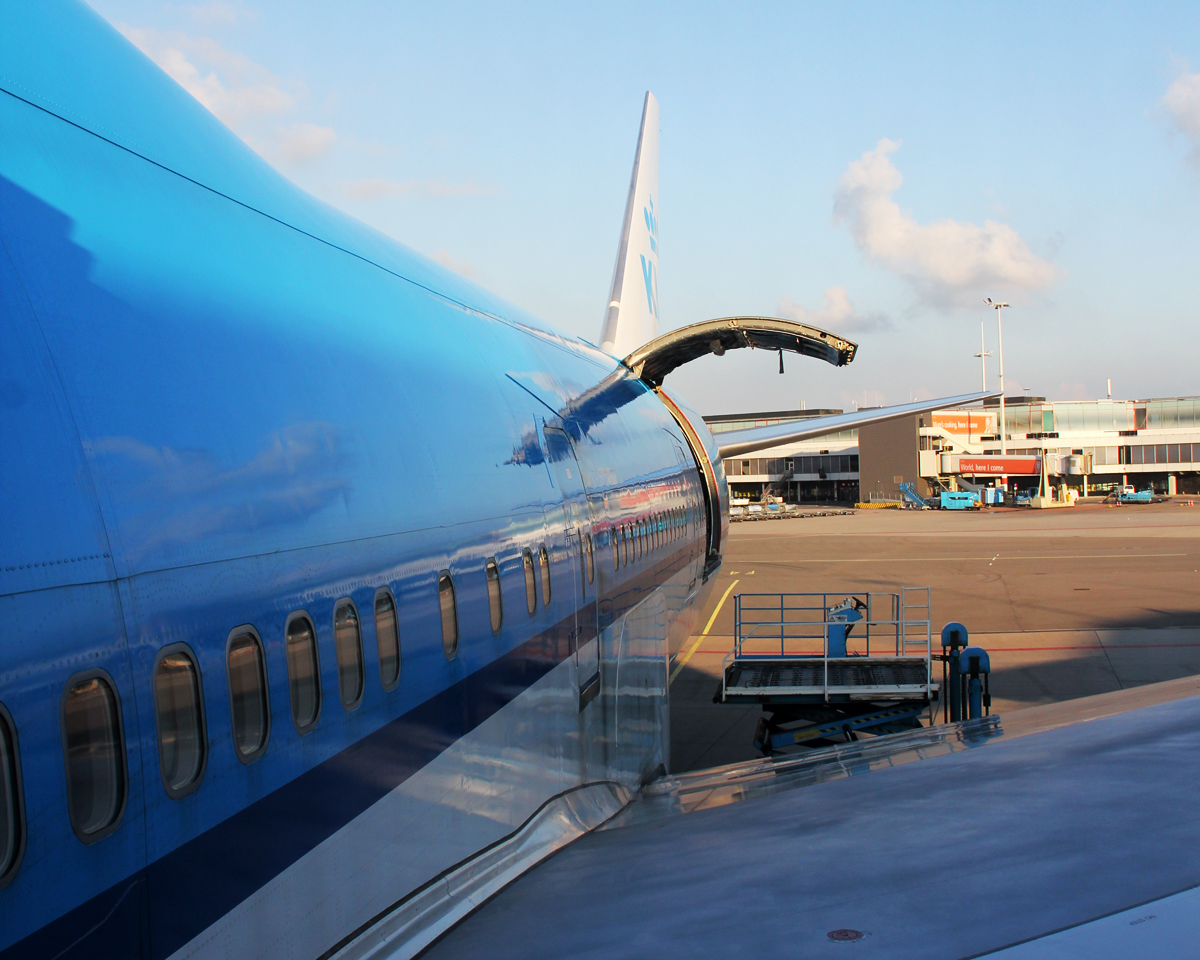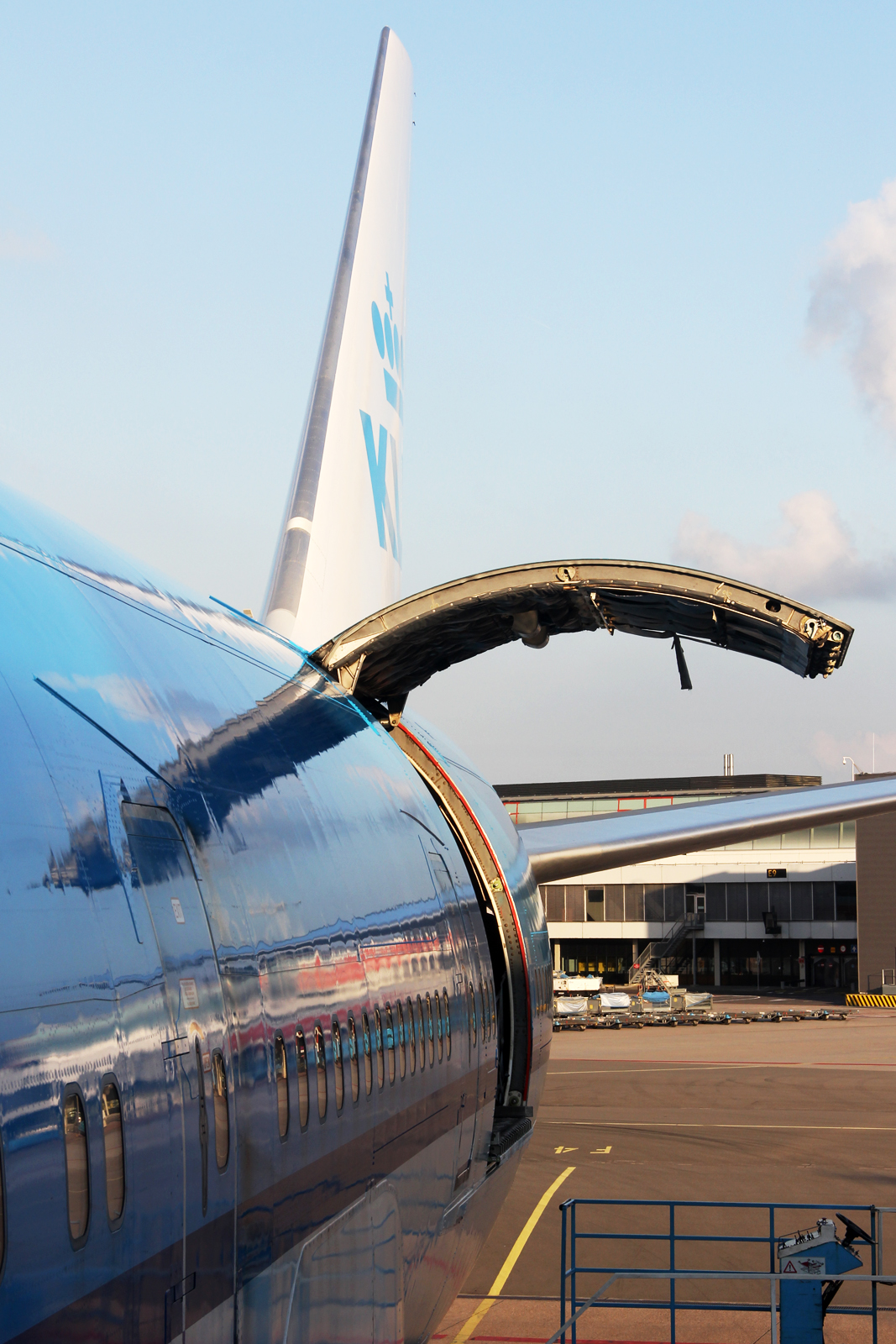 Flying in sunset almost the entire flight